Bruno Mars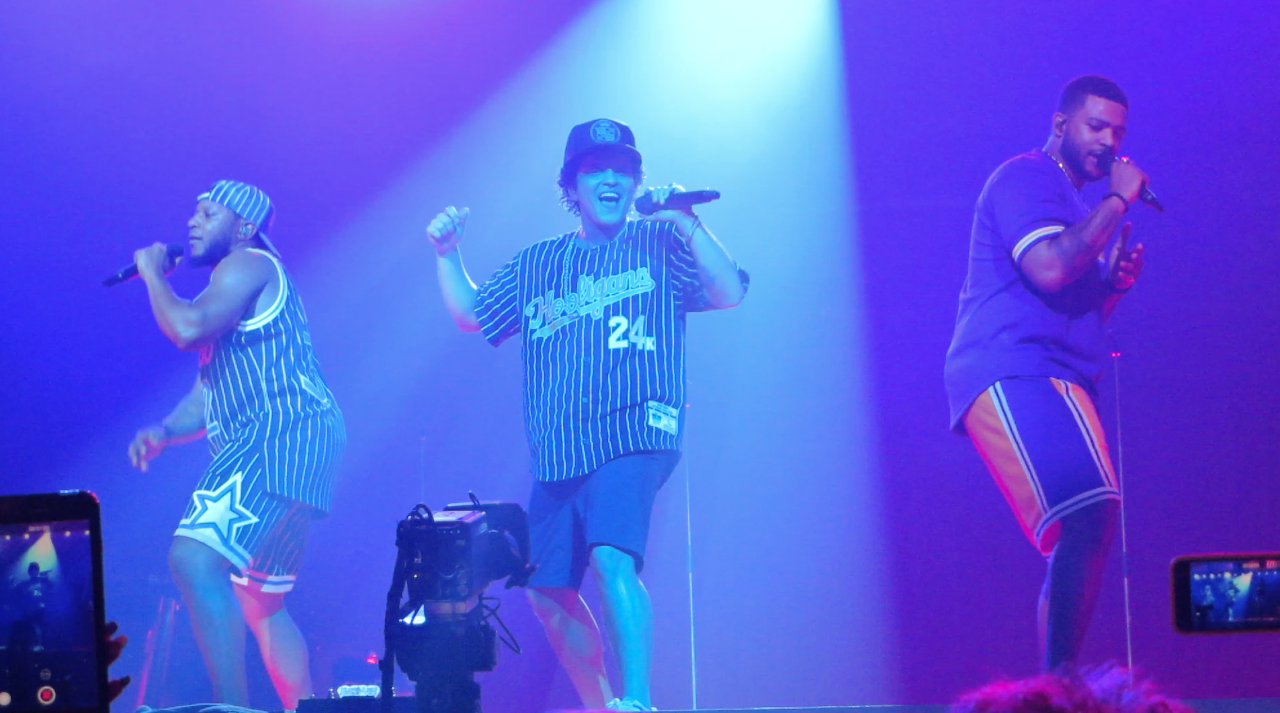 24k Magic World Tour
Having been blown away by Bruno Mars' Moonshine Jungle World Tour in 2014, I entered the 24k Magic World Tour arena with high expectations.
I've noticed over Bruno's touring career that his team have selected incredible opening acts that have been a concert in themselves. For his Australian leg of the tour, recently crowned Best Solo Female Artist at the Brit Awards, Dua Lipa, was lined up to perform and I couldn't have been more excited to see what the hype was about. However, mere hours before the concert was due to begin, Dua had to undergo emergency wisdom teeth surgery and was forced to cancel her performance. Devastated.
As a last minute fill-in, DJ Leggo My Fueggo took to the stage, and damn, you could tell he was last minute. Having supported Bruno in the States, DJ LMF was well acquainted with the tour but his set was sketchy. It consisted purely of RnB throwbacks and had incredibly questionable transitions with most changeovers being jarringly just behind the beat. However, his set was redeemed when the cameramen took creative control of the big screens and showcased some talented dancers in the mosh pit and beyond. When Ginuwine's Pony played, one of the cameramen moonlit as a Channing Tatum-esque stripper on stage. Sorry, DJ Leggo My Fueggo. For good reason, no one was listening to you.
When an emerald green curtain with a large gold crown dropped to cover the stage, the audience knew they were moments away from the spectacle that is Bruno Mars. And a spectacle it was.
The beats of Bruno's latest single, Finesse, pumped around the arena as the curtain slowly revealed a seven-piece band and the man himself. Primary colours lit up panels that silhouetted the musicians, then pyrotechnics kicked in and the show was alight. What a start!
Interludes highlighting each band member with a long solo punctuated the set as Bruno worked his way through the discography and past hits. The talent on Bruno's stage was absolutely remarkable, and even more so when they played their instruments whilst executing complex synchronised dance routines.
It is no wonder Bruno Mars took home six Grammys this year at the coveted awards show, including Song, Record and Album of the Year. Tunes that I would consider album fillers were brought to life through new arrangements, groovy dances, and constant transformations of stage. It was rare that the set around Bruno would stay the same for more than two songs. Although every movement of the musicians was meticulously planned, it wasn't rigid like a Taylor Swift concert, but rather effortlessly smooth and natural.
Notoriously, Bruno Mars gave the audience a personable performance, even in a 13,000 person arena, by singling out swooning fans in the mosh pit and serenading them for a brief moment of time. Oh, how I could be that lucky... His demeanour was bold and brash, but again on a new elevation of cool.
The night concluded with an encore of Uptown Funk, and then suddenly it was all over. Perhaps seemingly the fastest set I've attended, even though the performance lasted 16 songs. 'Time flies when you're having fun' had never felt more real in that moment, and I left feeling robbed that I couldn't have more.